Exploring a new city in a foreign country can be daunting. Between jet lag, the language barrier and just trying to find something to eat at 6 am, it's easy to get lost and confused. So, in the spirit of helping my fellow travelers out, I present: My top 6 apps that I used most on my vacation in Seoul.
Kakaotalk.
I'm going to start with Kakaotalk for a few reasons.
First off, depending on your cell phone plan, you may or may not have access to a cell network in Korea. My sister uses Boost Mobile, which is a small carrier. Her phone was basically useless unless she was connected to wifi. I have T-Mobile. International data and calling is included in my plan. That being said, I was able to send pictures via my regular messaging app, but not straight texts. Kakaotalk uses wifi for free messaging and calls. For whatever reason, I was able to use Kakaotalk to text no matter if I was connected to wifi or the regular network, even though my regular messaging app didn't work. My sister was able to make video calls to her kids via Kakaotalk whenever we were sitting around our apartment resting.
The second reason I mention this app is because if you book a tour, or if you make friends while in Korea, chances are they will keep in contact with you via Kakaotalk. Kakaotalk doesn't need someone else's phone number to connect. Which helps when you are from America, your tour guide is from France and your new friends are from Austria. No need figuring out country codes for dialing or texting. Just connect through Kakaotalk.
The last reason I mention Kakaotalk is because the next few apps are sister apps to Kakaotalk. I don't know if you need a Kakaotalk account in order to use the other apps. But it probably doesn't hurt.
2. KakaoMetro
KakaoMetro was invaluable to us in Korea. I would say this was my most used app.
Not only is this app a subway map, it will also tell you how to get from where you are to where you're going, how long it will take and how much it will cost. Now, I recommend having an actual paper subway map as well. (It helps in the beginning to know which way you need to go on the subway since each station has 2 trains going opposite directions.) You can input where you are (ex: Hongik Exit 9) and where you need to go. (Ex: Dolgoji Exit 1) It will tell you what line to get on, when to transfer and what line to transfer to, and what stop you need to get off at. Not only this, it uses real-time, not just a general time frame. It will also tell you how much it will cost per person for this ride.
Something else that was super helpful about this app is that it has a "street-view" feature for when you exit the subway station. This was helpful for us before we even left the U.S. We were given basic directions of how to get to our apartment from our Airbnb host. I was able to get on KakaoMetro and pull up the street-view of our subway exit, then follow her directions to see where our apartment was actually located. I took screen-caps of the walk from the subway to the apartment and used that to follow along when we actually arrived in Seoul.
3. KakaoMap
I need to be upfront about this. If you can not read Hangul, KakaoMap will not be super helpful to you, but it will come in handy on occasion. If you CAN read Hangul, I'm sure this app would be as easy as using Google Maps in the States. (In my experience, and from what I've read from other people online, Google Maps is basically useless in Korea. Naver Maps and Maps Me seem to be a couple of other favorites, but I didn't have much luck with either of those apps.)
I'm going to explain this for those of you who can not read Hangul, since I can't either. KakaoMap is a navigation app, so you have the little dot to follow to your destination. (If you are able to input a destination, it will have a big dot on the map.) We didn't have much use for this since every time we tried to search for places in English, it came up with nothing. The only time I was able to find anything in English was when I searched for "Burp" knowing that a raccoon cafe was in the same building as a place called Burp. (There will be a future post on the raccoon cafe, because, seriously. You need to know about this.) Other than that, whenever I searched for something in English, it came up with nothing.
There was a huge benefit to having this app, even though we couldn't read anything in the app. By seeing yourself on the map, and following your dot, you will be able to tell which direction you are heading and you can follow that to the nearest subway station. This feature came in handy one day when my sister and I got lost in Hongdae. We wandered for about 2 hours but were able to find our way back to our apartment by knowing what subway station we were closest to. We followed our dot in the direction of the subway and were able to finally make it home. Later in the trip, I was able to save our apartment in my favorites as "home" as you would in Google Maps. We used this a few times when we went out wandering in Hongdae. Whenever we got tired and wanted to head home, I would just pull up home and follow our dot to our ending location until we got to a spot where we didn't need a map anymore.
Aside from not having an English feature, there was one other drawback of this app for me. My sister didn't have much issue with it, but I had the worst time following the dot. I'm used to Google Maps where the map will turn as you do or will have an arrow pointing the correct way. I'm used to it showing which direction you are going or which way you need to be going. KakaoMap has a dot that shows you where you are. But if you turn the corner, the map will not turn with you. This doesn't sound like a big deal. But for someone like me, who has a terrible sense of direction, it's incredibly frustrating. If the map is pointing one way and I'm walking forward, it's really confusing to see my dot moving backwards or sideways. My sister didn't seem to have an issue following this. But whenever I was in charge of reading it, we ended up turning around several times because it took me a block or so to realize I was heading in the wrong direction.
4. Airbnb
The next on the list is Airbnb. The first reason is pretty obvious. We booked an apartment to stay in instead of a hotel through Airbnb. Our apartment was a studio with 1 full sized bed and 1 queen. It was a lot cheaper to book through Airbnb than through a hotel and it made our stay feel a lot more like home. We could cook, do laundry and visit the 24 hr convenience store in the building anytime we wanted.
The second reason I recommend this app is because they now have "experiences" that you can book. If you are staying in Seoul, there is a lot of things you can book to do through Airbnb. We booked a food tour and it was one of the highlights of our trip. Since it's through Airbnb, everything is verified and you can read reviews and communicate directly with your tour guide or host in the app. We were able to communicate with the other people that went on the tour with us through the app as well.
The final two apps were used in connection to one another.
5.  Visit Korea
Visit Korea is the official app of the Korea Tourism Organization. This app has info about food and attractions as well as directions to get where you're going. You can also find other helpful information such as Korea phrase to use in cases of emergency or at a restaurant. There is even a tourist assistance number you can call. The assistance number is offered in multiple languages such as Korean, English and Japanese.
I think we probably should have used this app a lot more than we did. Mainly, we used it to find ideas of what to do each day. But with all the info contained in this app, it is definitely worth a download.
6. Sygic Travel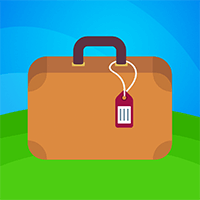 After we looked for ideas on the Visit Korea app, we hopped over to the Sygic Travel app to book tours. In general, the tours we booked were awesome and informative.
We booked a tour around Hongdae for our first day in Seoul. Our tour guide was a young woman from France who lives and goes to university in Seoul. She walked us around Hongdae, giving us the scoop on her favorite stores as well as laws on smoking in Korea and she even told us about the Korean equivalent to "Netflix and chill." ("Do you want to get ramyun?")
We also had a DMZ tour that was a bit rushed, but really interesting and informative. Our tour guide was not only knowledgeable, but also candid on the inner workings of the North Korean-South Korea relationship.
We also booked a Kpop tour that happened to be done by a young woman who actually works for one of the major Kpop companies. Not only did she know where all the company buildings were located, she had more knowledge of how the Kpop industry functions as a whole. She took us around to a few of the different company buildings as well as several places to shop for cds, and other Kpop merchandise.
There you have it. My top 6 apps to use in Korea. If you live in Korea or have visited, what apps do you recommend? Have you tried any on the list?